Sugar has been linked to high cholesterol and we know it is just empty calories anyway. So, lets talk about ways to decrease your sugar intake. Substitute Green Tea for some of your sugary beverages, or even sparkling water. Just avoid common sugar substitutes as they are dangerous as well. I like to use Stevia in my green tea.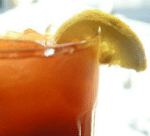 Here is a great recipe for Ginger Green Tea:
INGREDIENTS
5 cups water
2 1/2-inch piece of fresh ginger (unpeeled is okay), coarsely chopped
3 tablespoons honey or Stevia
6 bags of green tea
Slice the ginger into coarse slices. Boil the water, add ginger, reduce heat to low and simmer for 10 minutes or more. Remove from heat and add tea bags. Steep for 3 – 10 minutes. Strain out the solids. Store the tea in the refrigerator, water down to taste and add honey or stevia to taste. Can be stored for 1 week in the refrigerator.