If you have one, you know the misery they can cause, and since they tend to be chronic they go through cycles of improvement and aggravation. When aggravated this table can help ease the pain of chronic disc problems by reducing the pressure on the disc. This newer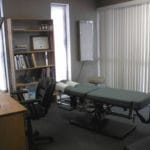 technology has been shown to:
Reduce pressure on the spinal nerves from a disc bulge or herniation
Increase spinal motion within the disc and spinal joints
Be a conservative option to surgery for herniated discs
Reduce symptoms of sciatica
Flexion Distraction is an adjustment method, using a table that bends in half. While the patient lays face down on the table, the doctor pushes the table down which tractions the low back to create negative pressure on the disc allowing increased blood flow, oxygen, waste removal, nutrients and decreased wear and tear. The movement is slow and doesn't usually cause additional pain. As the disc heals, and inflammation is decreased, symptoms like low back pain, sciatica, stiffness and discomfort walking are all reduced.
Chiropractors have been using this method for many years now and it has proven to be safe, effective treatment even when conventional treatments have been unsuccessful. If you have been experiencing neck pain, back pain, or symptoms that shoot down the arms or legs, call our office today to make an appointment:  407-716-6553.  You deserve to be pain-free.