Paleo, High Protein, Low Glycemic Index, 30 minute, Easy
Ingredients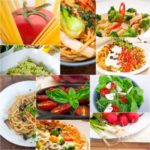 2 chicken breasts, boneless and skinless, sliced;
1 broccoli head, cut into florets;
1 red onion, sliced;
4 garlic cloves, minced;
1 cup coconut milk;
1/2 cup chicken stock;
1 tsp. paprika;
2 tbsp. oil – olive or coconut
Sea salt and freshly ground black pepper;
Preparation
Season the chicken breast to taste with sea salt and freshly ground black pepper.
Melt oil in a skillet over medium-high heat.
Brown the chicken on both sides 4 to 5 minutes and set aside.
Add the onion, garlic, and broccoli to the skillet and cook until soft, about 4 to 5 minutes.
Pour in chicken stock and cook while stirring and scraping the bottom of the pan.
Add the chicken back to the pan, pour in the coconut milk, sprinkle the paprika and adjust the seasoning to taste.
Stir everything well and cook another 4 to 5 minutes.
References: https://paleoleap.com/chicken-broccoli-creamy-garlic-sauce/