Top 10 Foods to bust Belly Fat
Belly fat accumulates around the mid-section and is a big concern for many. Studies have shown that it increases your risk for heart problems. So, how does one get rid of this unsightly problem? The ideal way is to choose your foods carefully and get some regular exercise (like walking daily).
Certain foods will help get you on your way to losing those extra inches.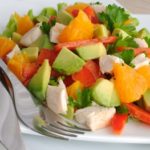 1. Almonds are full of protein and nutrients, and unsaturated fat which is healthier for you. The unsaturated fat will make you feel fuller and you will eat less.
2. Watermelons are a great food because they are mostly water and that fills you up. But, don't think they are just sugar, actually they are chock full of B1, B6, C and magnesium and potassium. And very low sugar, they just taste like they have a lot of sugar.
3. Celery is a natural cleanser for the inside of the body, adding it to salads or eating it with almond butter is a great option. Celery is high in vitamin C, fiber and calcium and digesting it takes more calories than the celery itself supplies.
4. Cucumbers are another food that is high in water content. They are also cleansing to the inside of the body and provide vitamins B and C.
5. Tomatoes are very low calorie and high in nutrients. They help reduce fat in the blood and provide lycopene which reduces wrinkles, fights cancer and reduces cholesterol. You may want to avoid these if you have rheumatoid arthritis, but if you don't, you will want to eat some raw and some cooked, every day. They also provide iron, potassium and vitamins A and C.
6. Avocadoes are high in fat, but it is the monounsaturated form mostly which is good for you. Only 2 g of saturated fat. They are rich in fiber, Vitamins C and A, and potassium. They also have a little protein and Vitamin E, so overall a well rounded food. (Also on EWGs clean list)
7. Apples are great fruit, full of the best fiber, flavinoids, phytosterols, and beta-carotene. The old saying "an apple a day . . . " really is true. Apples clean the inside of the body and provide antioxidants and fiber.
8. Tart cherries reduce cholesterol, lower the risk of heart disease and diabetes. Cherries, particularly tart cherries, remove fat from the blood, and are a great source of vitamins C and A and fiber.
9. Pineapple is a delicious tropical fruit that provides bromelain, vitamins B and C, protein, manganese, copper, and thiamine and fiber.  Bromelain helps process protein so it helps keep the fat off the belly, but it is very high in sugar, so use in moderation.
10. Last, but not least, dark chocolate. Dark chocolate is delicious, with the added bonus of being rich in antioxidants and vitamins. But this one, like pineapple, must be eaten in moderation due to the high fat and sugar content. And you want to find an organic, high cacao (or cocoa) content chocolate to get the best benefit in exchange for all those calories.  About 1 – 1.5 oz of dark chocolate is believed to stimulate hormones that increase metabolism, so you must be doing some exercise and eating chocolate in moderation to reap this benefit.
References:
http://ajcn.nutrition.org/content/89/3/794.full
http://umm.edu/health/medical/altmed/supplement/bromelain